So it turns out there's a Pee Pee Island and it's a real place, but you can't go there. I know we have no shortage of strange town names and sayings in the dialect here, but this island certainly takes the cake. It is currently one of the four islands in the Witless Bay Ecological Reserve, and it is the smallest of the bunch.
Pee Pee Island way back in 1983 was incorporated into the reserve as it provides a breeding ground for up to 1300 pairs of Atlantic Puffin that reside here. Just shortly after the incorporation, the name of the island was changed from "Pebble Island" to its current name, Pee Pee Island.
The island is only two hundred and fifty metres from the mainland, and despite what AirBNB says about having stays here, this place is just for wildlife. How did this island get its name? Well that I tried to track down but didn't have much luck in way of official and confirmed facts.
You can however see this is an official name and it's on the Canadian Gazetteer Database (CGNDB) but with little to no detail about the origins in the naming. I'm clearly not the first person to wonder about how we got to the name Pee Pee Island and I did find a Quora discussion about it back in 2021.
I asked the same question while SCUBA diving at a nearby island in Newfoundland, Canada and near the St. John's side of the island several years ago and it seemed that every local had a humorous story about the name and so I was unable to tell which one was correct much less which one was truthful. My favorite two were "after P.P. scratched on a rock on the shore" and the other one about "two guys taking a pee". Maybe someone can supply another or even a better answer.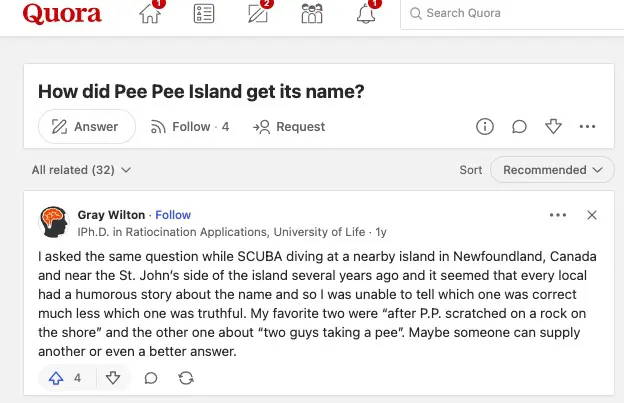 The topography of Pee Pee Island is characterized by grassy hummocks,
covered with exposed peat, grasses and small flowering plants. The main flowering components
found among the dominating grasses include Sheep Sorrel, Red Raspberry, Common
Chickweed, and Rough Cinquefoil. T
Witless Bay Ecological Reserve
The Witless Bay Seabird Ecological Reserve consists of four important seabird colonies and includes the surrounding waters which the seabirds inhabit during the breeding season. Four islands make up the terrestrial component of the Reserve – Gull Island, Green Island, Great Island and Pee Pee Island. They provide breeding habitat for the largest Atlantic Puffin colony in North America and the world's second largest Leach's Storm Petrel colony.
Thousands of other seabirds breed on these islands, including Herring Gulls, Great Black-backed Gulls, Black-legged Kittiwakes, Razorbills, Common Murres, Black Guillemots and the first known Northern Fulmars to breed in Newfoundland. In addition, the surrounding waters provide an important wintering area for Common Elders, King Elders, Thick-billed Murres and Dovekies.
Pee Pee Island Rules
For the birds only, stay away. Boats can pass by in here so you can certainly see it on a tour and truth be told, it's not much to look at.
Pee Pee Island Comments From You
The comments are open below, so please let us know if you know anything at all about Pee Pee Island and how its name came to be.